Kindergarten News!!!
Mountain View Core Knowledge School
Fall, 2019
Dear Parents,
I want to welcome you and your child to the Mountain View Core Knowledge School kindergarten program! Whether this is your first time sending a child off to school, or you are a seasoned professional, there is always a period of adjustment, both for you and for your child. To aid in this transition, I would like to offer the following information.
First of all, I welcome parent and grandparent visitors and volunteers.
In a classroom full of young minds and imaginations, there is almost always something for you to do. Whether you prefer to be put to work or just to observe, please know that you are welcome and encouraged to participate. As your family's school year begins to take shape, you might want to consider coming in on a weekly or monthly basis… or whatever your schedule allows. We can often use extra hands in the classroom, the lunchroom, the playground, and on field trips. Please be sure to sign in at the office prior to visiting or volunteering, as some of our grant funding is affected by volunteer hours logged. When you volunteer, please plan to give your full attention to the kindergartners, and do not bring toddler siblings.
J
Thanks! At out open house on September 10, once our class has had time to establish our own classroom community, we will be ready to add parent volunteers to the mix. So watch for a sign-up sheet that night!!! If you are interested in volunteering to drive our mini-school busses, please talk to Mrs. Fish at the front office for information on getting that certification.
If you need to meet with me…
If you need to speak with me individually about your child, please schedule a conference. I will be available to meet with you during specials classes, lunch, or after The time before school is my time to make last minute preparations for the day, so please try to avoid popping in before school unless we have made arrangements to do so. Just drop me a note, send an email, or give me a call if you need to schedule some time to talk. There are also two times during the year when I will meet with each of you for scheduled parent-teacher conferences. My cell number is 719-431-2337, and is the best way to get in touch.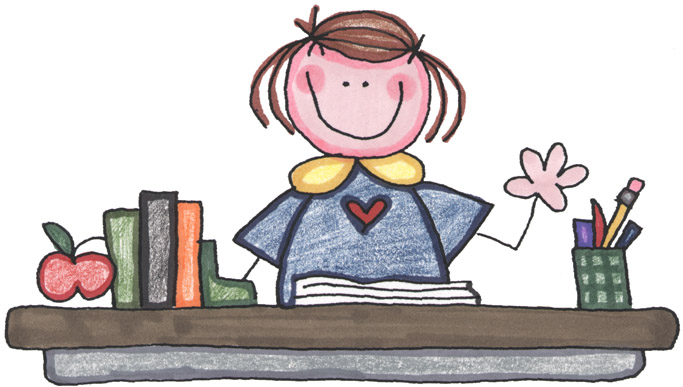 Regarding lunches and snacks.
Our lunch program is contracted with Harrison School, so we are able to provide two options of hot lunches daily. Some children prefer to eat lunches brought from home. It is not unusual for parents to come and join their children for "lunch dates." Some parents buy into our lunch program, others bring fast food or other things from home. This is not at all expected or required, but I just wanted you to know that it is an option if you want to occasionally drop in for lunch with your child. Our lunch time will be at 11:35 daily.
Experience has shown that children do best with a snack both in the morning and in the afternoon. Children will be asked to bring a small, healthy snack for the morning break. Please be sure to put your child's name on the morning snack. In the afternoon, we will be asking the Student of the Day to provide a snack for the classroom about four times throughout the year… a box of crackers, a bag of carrots or grapes, pretzels… something easy, and it doesn't have to be expensive.
Show and Tell.
Children will be allowed to bring toys or other items to school only during their "Student of the Day" opportunity. (See accompanying letter about Student of the Day.) However, if they have items or books relating to our current topics of science or social studies, or relating to current events, they may bring them at any time. Please do not send
toys to school with your child unless it is a designated show and tell day
.
Monthly Kindergarten News.
You'll be receiving this newsletter at the beginning of each month regarding kindergarten events, activities, curriculum topics, Student of the Day schedule, and snack schedule.

Work Folders and Homework
. Your child will be bringing a green folder to and from school each day. Any notes headed either direction may be sent via this folder. The folder needs to be emptied each day, and returned to school. Occasional homework will also be sent home in the green folder, and will be collected the following morning. Take-home readers will be sent home several times each week beginning around the end of October.
Special classes.
Students at Mountain View receive several special classes per week:
Monday: P.E. and Computers (Please be sure your child wears tennies on Mondays)
Tuesday: Art and Wellness
Wednesday: P.E. and Spanish (Again, please have your child wear tennies)
Thursday: Music and Spanish
Drop off and pick up.
School begins at 7:45, and ends at 3:45. Children are not allowed in the building before or after school unless special arrangements are made. Children will line up as a class outside on the playground and will come into the building as a group. The children will be responsible for putting away their own things and for developing a morning routine. This will help them to develop independence and responsibility. You may pick up your child at 3:45 outside our outer classroom door (door #4). If your child has older siblings, please be aware that we still ask that an adult pick up your child right next to the building unless arrangements have been made with us, so that we remain fully responsible for the children until they are in your hands.
Once again, welcome to kindergarten. I look forward to a great year with your child. Please know that as your child's teacher, I am doing something that I love. Kindergarten is where my heart is as a teacher, and I feel very fortunate to be able to serve your family in this way. In addition, this will be my last year teaching, as I plan to retire at the end of the year. So let's go out with a bang!
Welcome!
Nellie Jarvis,
Kindergarten Teacher