All about
Student of the Day!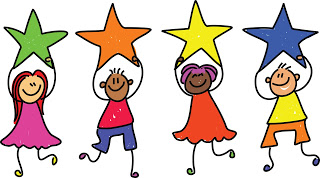 Four times during the year, each child will have the opportunity to be our Student of the Day. This means that he or she will be our line leader and calendar helper, our special messenger, our flag holder, and will also have other responsibilities. Each time your child has a turn, he or she may bring a show and tell item from home--It might be a stuffed animal, pictures of family members, a favorite toy, a favorite book, etc. Your child will also be asked to bring an afternoon snack for the class on his or her special day.
I will also schedule your child for Student of the Day on or near his or her birthday so that you might include a birthday snack for the group if you so desire. (I will assign those with summer birthdays to a "pretend birthday," so that everyone will be able to have a turn to be honored by their friends for simply having been born!)
Thanks! And please drop me a note or give me a call if you have questions!
Nellie Jarvis